Last year I Vamped about teasing all the senses for a memorable Valentine's night. I think I hit it squarely on the head with that and this year I want to kick up the sense of 'Taste' with a killer reverse seared Surf and Turf main entrée. Let's start though with a refresher on teasing some of the other senses:
Sight: Visual stimulation is very key…That is why Victoria's Secret is no secret at all! To elevate this part of the sensory profile dim the lights, light a fire, or lots and lots of candles. Have the flowers on display and wrap the Chocolates.

Smell: If you have a fire that is a plus. If not think scented candles (just a few) or incense. The aromas from the kitchen will also add to the mood!
Sound: Put together a romantic sound track. If you want to funk it up go with Snarky Puppy! The sounds from the kitchen will also kick up the mood!
Taste: Now bring on the reverse sear fillet mignon: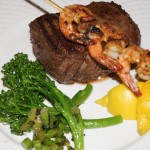 First get the best fillets money can buy at Chicago Steak Company. Let them thaw, then stand to room temperature. Rub them nice with our steak rub blend, then into a 205-225 oven. Bring them to your preferred doneness, then into a hot skillet with real Irish butter, olive oil and garlic. Tip the pan and baste as they sear turning a couple of times. Top with Mangia Shrimp Mojo and some sautéed broccolini and ……#forgetaboutit
Touch: Let your fingers do the talking.
Now pair this with a bottle of fine wine from Cellar Angels and you are a real Valentino!
More tips on reverse sear HERE.