Dan (3/4 of Mangia.tv) has been a fan of spicing up eggs for breakfast ever since we can remember. Here's one of his favorites, an egg and avocado breakfast toast. It can be easily personalized by adding candied bacon or drizzling with a little hot sauce, maybe some cheese!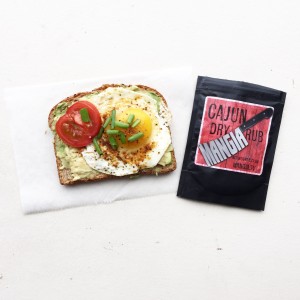 You'll need:
bread, toasted – whichever kind you like!
avocado
egg
olive oil (for frying the egg)
optional:
Roasted chickpeas (sprinkle with some Mangia Rub, too!)
cheese
chives, green onions, or your favorite herbs
tomato
hot sauce
Crispy candied bacon (fry bacon and season with MangiaTV Sweet Cajun Rub towards end of cooking)
anything else you want!