Tailgating, a little history… as is true of lots of great traditions, no one is sure exactly when the first tailgate happened. So let's not argue whether it was a Yale football game in 1904 or a Packer game in 1919. The fact is, bringing food and beverages to a 'sporting event' must be as old as 'sporting events' have been put on. I mean are you going to trust the food to some lackey or are you going to seal the deal and put a little effort into the meal beforehand and have great food and drink, assuring a great time no matter what the outcome of the 'event' is.

The tailgate term obviously comes from the fold downable section of a pickup truck or station wagon that can be converted into the most awesome buffet of food and drink imaginable. Now there are a few keys to a successful tailgate: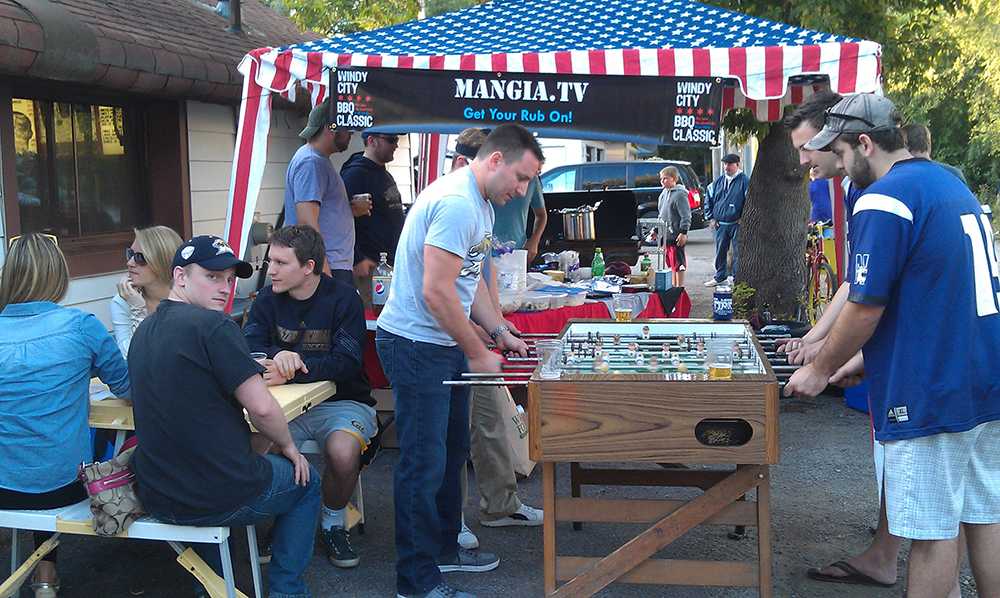 Be early: There is no bigger killer to a good tailgate than a shit location. The good spots go to the early risers. Get everything done the night before so you can get an early start and secure that prime spot.
Hydration: You must have lots and lots of beverages from sparkling water to cold beer. The weather will dictate some of the beverage choices. As the weather turns cold and nasty you will need some hot beverage choices to keep the crew happy.
As was pointed out in bullet point 1, lots of great tailgate fare can be fully prepared beforehand. Think ribs, chili, deli trays, antipasti trays ect. The grill then can be used to cook fast cooking items like burgers and sausages and reheat those longer cooking items. Not unlike the boat, make eating and cleanup as easy as possible. Wraps, finger foods, ect.
Bring the foosball table. If you have one in

the basement, or the neighbor has one, bring theirs. This game will bring tons of energy and fun to your tailgate. Bring a football and throw your arm out.

Early games: Consider doing the food part of the tailgate after the game. Stay till they kick you out.
Deep Fried Turkey: A great option to feed a large tailgate! If it's windy, you need to set up wind protection for deep fryer.
The time spent in proper planning and preparation will make any tailgate party more enjoyable. Think outside the box and come up with great, easily eaten food paired with great beverages and the outcome of the 'event' will matter less. The time spent re-connecting with friends old and new will be what you remember long after the facts of who played and what the final score was fade from memory.
Get more Tailgating Tips from Uncle 'Merica on this week's Cooking Vamp.