MangiaTV Super, Super Bowl Party
Well at long last the last and biggest game of the football season is upon us and the Super Bowl offers another great time for epic food and drink. Let last year's game be a reminder that the food and drink better be great because the game may not be. This year we are doing that fajita thing. You know, you make an enormous pile of choice, choices that will please any taste bud on the planet and let the revelers build their own mouthwatering creation. Then you make sure there is plenty of dehydration fighting beverages on hand and mix in some gambling and you're sure to have a great party.
The MangiaTV Super Bowl Party Fajita Bar would not be complete without all of the following:

Crisp Bacon
Avocado Slices
Grilled Jalapeños
Grilled Peppers
Grilled Onions
Sliced and Diced Ripe Tomatoes
Cheese, Cheese, Cheese, oh and Cheese
Grilled Chicken (Mangia marinated Sweet Mangia Rub of course)
Grilled Skirt Steak ( Mangia Dry Rub, Olive oil, crushed rosemary)
Grilled Tilapia (Fish Mojoed to the max)
Refried Black Beans
Sour Cream
Raw Onions
Raw Green Peppers
Coleslaw
Chips ( Krunchers in a variety of flavors)
Sautéed Mushrooms
Grilled eggplant and zucchini (dusted with olive oil and Sweet Mangia Rub)
Roasted Corn (as suggested by one awesome Mangia Maniac during the Cooking Vamp)
There is no such thing as overkill when putting together an epic fajita bar. Think taste and texture and don't be afraid to test your crew's limits.
As for beverages, we recommend the same approach to our 'Bloody Mary Bar'. You can buy a pre-made Bloody Mary mix, or make your own base: tomato juice, vodka (love Tito's!), lemon juice, lime juice, hot sauce, horseradish, Mangia Cajun Dry Rub (!!!).  It's all in the array of fixins:
Celery
pickles
olives …at least three kinds
pepporchini wrapped with salami
cheese
Sweet Mangia Candied Bacon
???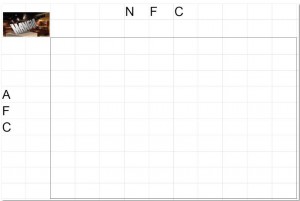 Now that the food and beverages are taken care of you must employ the added energy of 'money on the line' in your party. We have supplied a square pool for you and it does not matter what the stakes are. People will be more interested in the outcome with just a few bucks involved. Print the square pool out and get it filled in. Then watch as a safety, or missed extra point throws the whole thing up for grabs.
So you are not hosting and you want to make an impact? Well then just make sure you bring a plate of Mangia Shrimp Mojo shrimp and watch the people fight over them. You should also print the square pool sheet so you don't have to endure watching someone try to draw it out and end up with 110 squares.
By the way, sorry to #deflate your mojo New England, but I have the Seahawks setting up a run for the Three-peat next year.