Ok, this is short notice, but in case you missed the Spreecast last night I thought I would put down in writing the Mangia Top 3 Thanksgiving DOs and DON'Ts.
Now these are guidelines, but they have worked for us over the years.
DON'Ts
3. Don't be a big sissy and not play in a turkey bowl.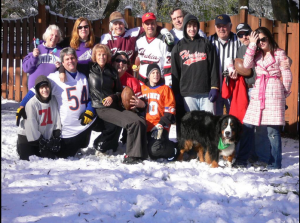 Get the gang together, the young ones, the old ones, and everybody in between and get out on a patch of turf for some football fun. Let the old folks referee, or cheerlead, or mix and serve cocktails for the crew. Bragging rights will last an entire year! Two hand touch, two-hand shove, tackle, two-hand grope…whatever. The key is to get out there and enjoy the crisp fall air and get the blood flowing. When loud mouth, cousin Phil, gets tackled into dog shit you have your bonus.

2. Don't make too little dressing and mashed potatoes.
The best leftovers of the year are Thanksgiving leftovers. No dressing or smashed taters = shitty leftovers. We like to mix our stuffing in a new plastic garbage bag so you can mix a proper amount for an ample leftover cache. Once the bird is stuffed front and back, take the remainder of your stuffing and put it in foil. Cook it right along the bird or whenever there is oven room. Once the bird is done and the stuffing is removed, mix both together.
1. Don't take Walmart's advice and try to flip your bird 1 hour in…
Especially if it's a Mangia-worthy bird, tipping the scales in the super heavy weight division. I have a hard enough time getting the bird stuffed front and back and put in the roasting pan cold. Heat that sucker up, try to flip it, and a small child may end up with a turkey contusion and nothing is worse than a second trip to the ER (cousin Phil's broken ankle being the first).

DOs
3. Do set out and label all serving dishes with what's going in them before cooking.
This makes the transfer process seamless. You never end up scrambling while holding something 800 degrees Calvin while you try to get nephew Tommy to reach for big Nonna on top of the corner cupboard. If you're totally anal you can label serving dishes for all the things other people are bringing too…
2. Do make a place outside in Mother Nature's refrigerator to set up a bar for beer, wine, soda, water ect.
This stuff in the quantities at a Mangia get together would overwhelm any inside cooling mechanism. Put a recycle bin next to this set up and semi-kill two birds with one stone. There are always slackers that will leave empty bottles where they finish em…
1. Do think about your carving of the turkey as a dissection.
Remove both leg/thigh from body first. Then remove each breast intact. Lay these on the cutting board. For the leg/thigh slice lengthwise. For the breast cut against the grain so each piece gets a little bit of skin. Remember you're a surgeon, not some hack 1st year resident.

Put these tried, true, and Mangia tested and approved guidelines to work and have an epic Thanksgiving. Enjoy!
PS. Do. Be Grateful!