Greetings Mangia Nation,
We are grateful to host our 2nd annual Mangia.TV Leftover Throwdown!
We are holding a leftovers recipe contest and we'll be awarding one lucky, talented, motivated,
MangiaManiac winner a Mangia.tv Gift Basket. We are also going to offer a great Cyber Monday Special offer to our registered customers. All you have to do is register on our site and we will take care of the rest. (Find the email form on the bottom of our website)
While you're gearing up for Thanksgiving, a major Mangia.tv holiday BTW, make sure you're checking our Twitter, Instagram, Pinterest and Facebook page for recipes ideas or to share your ideas with us!!
Thanksgiving Leftovers Throwdown: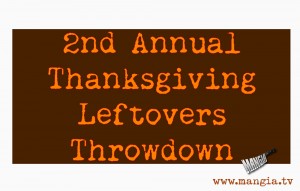 Every Thanksgiving we as Americans make a ton of food and do our best to eat ourselves to death. Here at Mangia while we're all about that, that's not all we're about. Being a Mangia Maniac isn't all about indulgence; it's about sharing, creativity, and above all community. We posted a recipe for Turquitos (taquitos) using some leftovers from a practice turkey (I told you this was an important holiday to us). This was meant to be an example of a creative use of leftovers to help kick off our contest.
One recipe per email, but by all means get the family involved, bracket up (March Madness Like) your creations and send them all in. Recipe should include the basics and a photo would be great. That's it. Cook, enjoy, reheat/recreate, repeat. That's the Mangia way.
Email your recipes to info@mangia.tv by December 5th! Winner will be contacted by December 12th! Good Luck!
Be sure to look for our e-mail offer Sunday before Cyber-Monday. Thank you!
HAPPY THANKSGIVING!