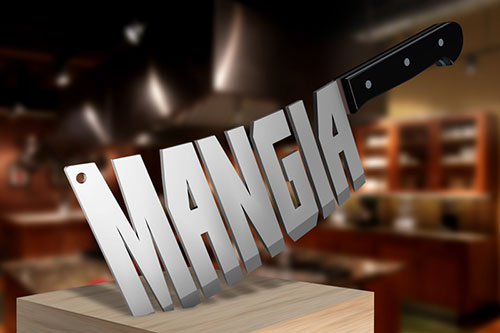 WHO WE ARE
Mangia TV was established in 2011.
The history of the show started when we ( us humans) started cooking for the entire clan. Learn how to put together a meal for friends and family and build health and happiness the Mangia way. Mangia TV is a live network producing hours of original programming every week for your entertainment. The title "Mangia" is an Italian word meaning "so, eat!".  The most basic of human needs is nourishment, and the bonds of family and community built through this endeavor help define culture. We explore this in an attempt to rekindle the spirit of nourishing the body and the soul with live, interactive content.
Most all our segments are brought to you live first, so you can taste the authenticity. From our weekly Cooking Vamp and Cooking Therapy to our Wine Vamp and gardening segments we aim to inspire, inform and learn ourselves from the Mangia Nation. #MangiaManiacs
Mangia Competed!
And let's not forget our award winning BBQ Rubs! We've come a long way from just grilling in our backyard. Our family recipes have taken 1st Place in Dry Rubbed Ribs at Lake Villa's Ribfest 2012 and 2013. We've also competed at the Windy City BBQ Classic in 2013/2014 and at Westmont BBQ. Both competitions have ranked in the top 10. Be sure to visit our online store and pick up a few packets. Our dry rubs will work on just about anything. Take a peak at our tasty recipes if you need some ideas on what to cook that day. Be sure to share it with the Mangia Nation!
So join the conversation, and share your family secrets for great food, drinks and traditions so we all can build closer, more loving communities. So do yourself a favor and cook somebody a great meal!