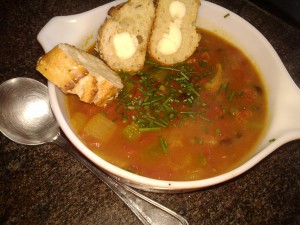 Spicy Cajun Black Bean Soup
Ingredients: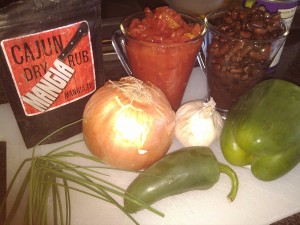 1/2 yellow onion, diced
1 bell pepper, any color, chopped
2-3 cloves garlic, chopped
1/2 – 1 jalapeno, diced
1 can (14.5 oz) black beans, strained
1 can (14.5 oz) diced tomatoes, unstrained
1/2c. – 1 c. water or veggie stock
1 tbsp. Mangia Cajun Dry Rub
1 tsp. tumeric
1 tsp. salt
chives to garnish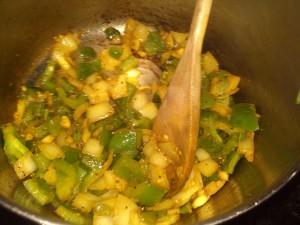 Instructions:
1. In a medium pot, heat oil and saute onion, bell pepper and jalapeno with salt, Mangia, and tumeric until tender. Use only a half of the jalapeno for a less spicy soup, or the whole thing for a more fiery experience.​​​
2. Add tomatoes, beans, and 1/2 c. water or stock. Let simmer for about 15 minutes, adding more water/stock if a more runny consistency is desired.
3. Serve garnished with chopped chives and a side of toasty buttered bread!